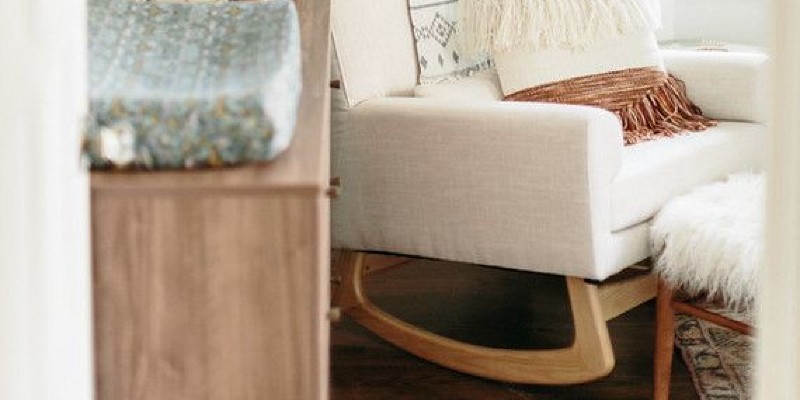 Color and Pattern Play at a Joyful New Nursery
Lani Zervas relied on love and fortune to style daughter Daphne's nursery, picking everything from paint color to pillows based on instant attraction. For some of us, this technique might end at a Technicolor mishmash. But somehow Zervas' cheerful pear green walls, pom-pom cellphone, classic furniture and lively patterns looks just right. "I'm kinda mad when it comes to putting things together," states Zervas, who resides in Milton, Massachusetts. "I have no real rhyme or reason, but I know that it'll work out at the end somehow."
Photography: Jessica Delaney
A downstairs room with beautiful original windows proved to be the perfect place to get a nursery at Zervas' Tudor home. Sunshine fills the space throughout the day, making a bright and happy space.
Zervas, shown here, started decorating when she moved, originally designing the room as a family room space. However, when she discovered she was with a girl, she picked out a couple of accessories to get a somewhat more feminine look. "I was a tomboy growing up, however," she states. "I have a feeling that my daughter will be too."
Crib, dresser: Mid Century, Dwell Studio; rug: HomeGoods; wall paint: Pear Green, Benjamin Moore; mini Ghost Seat: Kartell; sheepskin, bookshelves: Ikea; giraffe pillow: Jonathan Adler
The area's color came long before the baby. "I love to be decisive about my colours," Zervas states. A quick trip to the hardware store after going into her Tudor resulted in the color palette for the whole house — that pear green suits the rest of the downstairs, also.
After painting the room, Zervas purchased the two biggest and most expensive items: a crib and dresser from Dwell Studio. Though she lives in a Tudor, she desired some contemporary furniture for an eclectic interior. "Every thing in our house is kind of a random mixture of new and old," she states.
Basinette: Ninna Nanna, Monte Design; toy bins: Dwell Studio; drapes: DKNY through HomeGoods; crib bedding: Udaiper Crib Place, Aden and Anais; girl mirror: Jonathan Adler
A plush glider (enjoyed here by Ty, Zervas' Chihuahua) was a must-have. Zervas adored the concept of an old wooden rocker, however, comfort won out.
The styled portrait is a light-hearted Zervas that her grandma drew when she was a toddler. "I knew I'd frame this for the nursery, irrespective of the infant's gender," she states.
Seat: Chevron, Land of Nod; orange pillow, side table, lamp: HomeGoods
France has a significant role in Zervas' life — her and her husband take a trip there every year — so she wanted the room to hint at her love of French culture. Several Etsy prints over the crib (including this "Je ne sais quoi" poster) kindly pay tribute to the household's love of everything French.
Felt dogs shaped to look like Zervas' two dogs hang among soft pom-poms on the habit cellphone over the crib.
French prints: Sycamore Street Press; mobile: Sheep Creek Needlecraft
Near the cupboard, an embroidered chair from an auction house is another diverse component. "Even though I purchased a lot of very midcentury-looking pieces, I knew I needed anything else to be quirky and kind of balance it out," states Zervas. "I hate being too genre-specific."
Shelves: West Elm; chair: Skinner Auctioneers and Appraisers
Zervas' instinctive approach to design has resulted in a nursery that feels real, simply like dwelling.
French bulldog drawing: Sycamore Street Press
See more of this Zervas home.
More: Oh Baby! 12 Ideas to Find a Chic Nursery Rolling