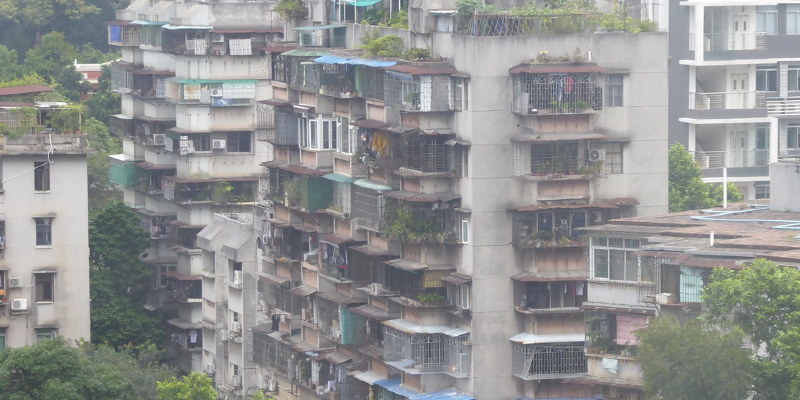 Longer Room Leads to Deadly Chic in Manhattan
A scant 330 square feet might not appear to leave room for flexibility, but Michelle Konar has put her creativity to work in this small space. An art director in an advertising communications company, she's taken good advantage of the perspective of the Hudson River and flipped into her studio, on Manhattan's Upper West Side, to some posh space. Smartly weathered classic finds and DIY custom pieces have turned this small apartment into a cozy home that highlights Konar's artistic talents.
in a Glance
Who lives here: Michelle Konar
Location: New York City
Size: About 330 square feet
Chris A Dorsey Photography
"Everything in here I have either touched or altered in some way," Konar says. After finding her dining table place on Craigslist, she gave the originally orange chairs new life with gray and white stripes. Her father helped her refinish the mattress, and Konar also refinished the Urban Outfitters pendant lamp.
Chris A Dorsey Photography
Three simple document frames next to Konar's mattress hold another DIY project. Using decorative paper and wood veneer from Paper Source as mats, she framed animal prints by a historic engravings publication from Dover Publications. The engravings were photocopied by Konar in a scale. "I love to be able to change things up, to do something a little unexpected," she says.
Frames: Crate & Barrel; berectile dysfunction: flea market, refinished; side tables: family hand-me-downs
Chris A Dorsey Photography
If Konar needed to choose a favorite designer, then it would be Emily Henderson. "I enjoy that she finds old pieces and refurbishes them. The way she transforms distance is actually interesting to me personally. It's so layered — it's vintage but contemporary."
Chair: Sutton Sofette, West Elm; stool, rug: Crate & Barrel; round pillows: Urban Outfitters; lamp: Lamps Plus; paint: Bedford Grey, Martha Stewart

Chris A Dorsey Photography
When Konar moved into New York, she subleased a location in Brooklyn with friends and was told she'd never find a place in Manhattan in her budget. "I'd always loved this place," she says. "It's appropriate between Riverside Park and Central Park, and I love to cook, so to get a Fairway Market, Zabar's, Whole Foods and a Trader Joe's — I mean you just can not beat that."
Chris A Dorsey Photography
This vintage-type tray, located in the Sunday flea market on 76th Street and Columbus Avenue, today functions as a jewelry holder. Other trays around the apartment act as creative storage units.
Giraffe hooks: Cost Plus World Market
Chris A Dorsey Photography
Konar made this set of five canvases via a bit of trial and error. "I took some suiting cloth and stretched it and then painted it," she says. "What I didn't see is that the cloth would just soak it in. It required four coats of paint each to make it to look exactly perfect."
Around the corner is a 6-foot-tall type tray that Konar believes her pride and joy. She came across that tall menu in a flea market in Brimfield, Massachusetts, and brought it with her to New York. "I imagine it at the end of a narrow hallway one day once I have hallways and rooms"
Chris A Dorsey Photography
A tabletop letterpress sits on her media stand. "I got it from a buddy and I would love to use it, but it's a bit too small to do anything aside from small stationery," she says.
Konar has begun to collect oversized letters, such as the galvanized "T" on the media stand. "I went to college for graphic design and researched typography in fantastic detail, so it's something that I have become quite passionate about," she says. The paper wreath in the corner is another handmade project.
TV stand: Ikea; accent wall paint: Yucca Plant, Martha Stewart Living; storage containers: The Container Store
Chris A Dorsey Photography
Konar studied graphic design at the Rhode Island School of Design. Apart from her fulltime work, she creates and sells unique hand-sewn books and kitchen fabrics through her Etsy store, ShopONA.
Cabinets: family hand-me-downs
Chris A Dorsey Photography
Konar got creative with her kitchen backsplash. "Initially I put up one large roll of corkboard, but it would expand and contract, and started to crack. It fell apart within a month," she says. As a compromise, she cut the cork down to the size of subway tiles, and it's held up well because she place them up a couple of weeks ago.
Rug: Ikea
Chris A Dorsey Photography
Konar attached the colorful cork tiles into her wall utilizing simple 3M adhesive strips, which she could eliminate easily when she moves. The small size means she had to utilize just one glue strip to attach bit, along with the tiles could still expand and contract.
This creative cork backsplash enables her to display various paper mementos and artwork with pushpins.
Chris A Dorsey Photography
Konar would love to refinish this flea market buffet sooner or later, once she decides what to do with it.
Wall paints: Yucca Plant andBedford Grey, Martha Stewart Living
Chris A Dorsey Photography
Konar purchased this tiny cardboard deer head out of Cardboard Safari and decoupaged it with decorative papers. "This is a fun little job and adds a little comedy to an otherwise vacant space," she says.
Chris A Dorsey Photography
In the entryway, Konar creatively organized linoleum block carvings from her art college days to combine in around the light switch and buzzer. "I designed and carved these blocks, then used them in a letterpress to make cards," she says. "I have always believed the carved block was as interesting of a bit as the final designed card so I retained the blocks and painted the elevated portions black"
Near her screen of blocks is another DIY project. Konar coated a magnetic board from Ikea with ornamental paper using Mod Podge. "Pictures of friends and family, things that I believe are well designed or from places I want to remember are posted up there. It's probably the most personal and sentimental spot from the apartment."
Chris A Dorsey Photography
Konar says, "As an art director, a lot of what I do is 2-D. I like using a 3-D space to play and use with patterns."
Posters: Typestache, by Tor Weeks, Old Tom Foolery; Dinosaur Jr. by Justin Walsh, Resist Imposters
Chris A Dorsey Photography
Konar considers herself lucky to have an outside patio in Manhattan. "I enjoy sitting out there with my morning coffee, inviting friends over for cocktails or curling up with a book and blanket after work," she says. "It's such a relaxing space and has a fantastic view of the Hudson River."
Chairs: Target; rug: Thom Filicia for Safevieh, bought on Joss and Main; flowerpots: Home Depot
Can you live in a creative small space? Discuss it with us.